5 Ways to Market Your MyDash App
Have you recently started using your custom MyDash app but need some help marketing it to your clients?
Here are 5 simple ways you can start advertising your app to your customers TODAY to get more downloads!
1. Use QR Codes

Your front desk is your best friend!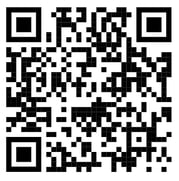 QR codes (short for Quick Response) are barcodes generated for smartphones to access information like websites and app downloads. You can easily display these pixelated patterns anywhere: stick one by the front desk, in your stylists' stations, or on your salon's front doors by your business hours. This way, your clients can scan the code to download your custom MyDash app right away. 🤳
The best part is that QR codes have a wide range of design capabilities, depending on your budget. You can use your logo, create shapes, and personalize the barcode colors. What's even better? Some websites like QR Monkey (where we made the code to your right) let you generate one for FREE! Click here to find the best QR code generator for your needs!
2. Talk It Up

One of the best tools you can use is word of mouth.
Asking if a client has already downloaded the salon's custom MyDash app is a great conversation starter for stylists when their client is in their chair. Your Front Desk staff can also use their check-in and check-out points to mention how to download the app and all the benefits they have when doing so, like booking online and earning extra discounts or loyalty points.
3. Going Social

Social media is free advertising for your business!
Create a fun Instagram Story, Reel, graphic, or TikTok showing off your Branded or Enhanced MyDash app to your clients! You can even show them where to find your app in the app store. Check out this example from one of our clients. Society, a Salon made an IGTV explaining how to use their custom Branded app to their followers!
4. You've Got Mail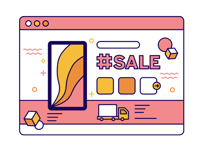 Send email invites & offer incentives!
Send specific emails about your custom MyDash app and provide discounted services or exclusive appointment opportunities to those who download it! You can also insert a direct download link into your service reminders, AMP email marketing campaigns, or SMS marketing tools! This way, your clients have direct access to what they need!
5. Website Visibility
Chances are, your clients will go online to book anyway.
Why not boost your custom MyDash app on your site?! 💻
Use a landing page (or home page) to increase downloads. Or, you can dedicate an entire menu item to your custom MyDash app to get more clicks. Salon Boulevard has an excellent example of online promotion on their website. Click here to see how they did it!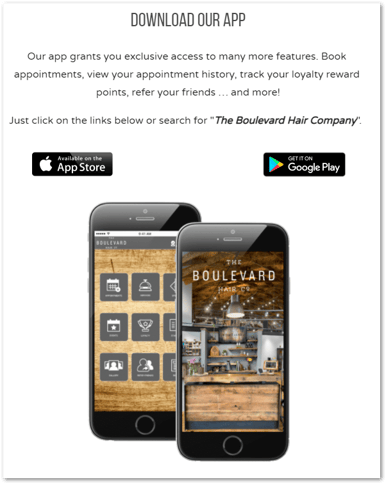 What is MyDash?
MyDash is Envision's customizable mobile app for your clients to directly connect to your business. With your custom MyDash app, clients can book their appointments, receive special offers, and earn loyalty points. Our Branded mobile app is included in our Ultimate Edition. Our Enhanced app includes extra features like spin-to-win, push notifications, last minute appointment deals, gift card sales, and more! To learn more or to upgrade, contact our Sales Department at 800-231-9445.
Please note: This article was written before Envision Cloud Medspa software was rebranded as AestheticNow, but the custom app discussed is still relevant and available under the new name.