Amplify your Retail Sales
Here are some tips on how your medspa can boost its retail product sales. Earn more profits by getting your customers to buy retail during their visit.
Retail products can be a great source of revenue for medical spas, but many medspas struggle with boosting sales. Especially with Amazon making it quick and easy to order any and all high quality products right to your doorstep. However, with the right strategy, aesthetic practices can increase their retail product sales and generate additional income. Let's discuss some ways you can beat out other retailers and ensure your clients are buying their daily skincare or aesthetic products at your business.
Train your staff
One of the most important things you can do is to train your staff on the products you carry. Make sure they understand the benefits of each product, how they work, and how to use them correctly. This will help them to make more informed recommendations to customers, which will increase sales. Within the AestheticNow platform, you can leave suggested products attached to specific services to remind your staff to bring up the topic with their client at check-out. These suggestions can be directly added into the cart alongside the service(s) preformed.
Create product displays
Create visually appealing product displays that catch the eye of customers. This can be done by creating a display that is easy to navigate, and includes a mix of products. This will help customers to see all the products that you offer and make it easier for them to make a purchase.
Offer a package deal
Create package deals that include a service and a retail product. This is a great way to increase sales, as customers will be more likely to purchase a product if they know they will be using it at home to maintain their service. These packages can be moisturizer or a specific serum or toner to help your client meet their skincare goals after a facial treatment or a dieting product to help maintain a coolsculpting procedure. You can create these packages in AestheticNow for easier checkouts for the staff.
Offer samples
Offer samples of products so customers can try them before they buy. This will help them to make a more informed decision about a product and increase the likelihood of a purchase. Mention which products you are using during the services. You could even order the small trial bottles of products to give out at the end of a service. You can track the inventory of these samples through AestheticNow.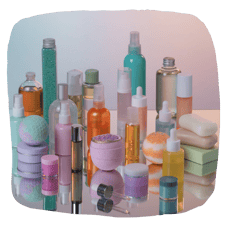 Use social media
Use social media to promote your retail products. This will allow you to reach a wider audience and increase brand awareness. You can post pictures of your products, customer testimonials, and promotions to increase sales. You can post tips and tricks with the products to demonstrate use cases.
Reward customers
Reward customers who purchase retail products with discounts or special offers. This will encourage customers to purchase more products and come back to your medspa. You can create retail marketing campaigns based on trends or holidays.
Promote e-Commerce
You can craft a medical spa e-commerce website and sell your retail products to your clients online. By offering customers a convenient and easy way to purchase products online, you can increase the likelihood of them making a purchase. Consider utilizing social media platforms and email or SMS marketing campaigns to showcase your products and special promotions. You can provide detailed product descriptions and customer reviews to help you build trust and confidence in your staff's expertise, leading to increased sales.
In conclusion, boosting retail product sales in a medspa requires a combination of strategies. You can tailor your retail offerings to better meet the needs and desires of your clients by using your medspa software to gain valuable insights on customer buying patterns and preferences. You can also use your medical spa software to send targeted marketing campaigns and promotions to specific client groups, encouraging them to visit your aesthetic practice and make a purchase. By leveraging the capabilities of your medspa software, you can streamline your retail operations and create a more personalized shopping experience for your customers, leading to improved retail sales and a more successful business.